How to Fund Your Business Even If You Have a Bad Credit Score
Starting a small business is expensive. If you're a small business owner, you may need a loan to help you handle start-up expenses, cash flow, or even miscellaneous expenses. But bad credit makes getting a loan difficult. According to Experian, a very poor credit score is anything between 300 and 579 and a fair credit score is anything between 580-669. If you have a credit score in the very poor or fair category, you're not alone. Thirty-four percent of Americans have credit scores in these two ranges – that's one in three Americans. Even though it's not uncommon, having a credit score that's defined as very poor or fair, may make getting a loan difficult. 
If you're applying for a small business loan, you should know that bad credit is the top reason for rejection. Lending institutions perceive individuals with bad credit scores as riskier, meaning the risk of defaulting on a loan is higher. Since lending institutions prefer to minimize risk, they often reject individuals with bad credit.
But bad credit doesn't mean you have to give up on your small business dreams. There are ways to get loans for your small business even with bad credit. The best option for getting a loan will depend upon the current state of your business and what you need the funds for. The best options to cover expenses differ if you have a new business, have cash flow issues, or are looking at alternative lenders. Just because you can't get a small business loan from a bank doesn't mean you should take a loan from the first place you find. You should consider all your options to make sure you pick the right one.
New Businesses
There's a reason that most people choose not to start their own business – it's hard. Financing can be one of the most difficult aspects. Every business has startup costs and no matter how well you plan and budget ahead of time, the costs almost always end up being more than expected.
For new businesses, loans may be even more difficult to get. Besides your credit score, small business loans are based on the annual revenue of the company, how long the company has been in business, and if the company has had any recent bankruptcies. If you're just starting out, your company doesn't have a track record that a lender can evaluate and you probably don't have much revenue. This can make getting a loan difficult, even if you have a great credit score. If you have a bad credit score, getting a loan becomes almost impossible.
For this reason, the best option for covering the expense of a new business might be credit cards. 
Personal Credit Cards
Putting business expenses on personal credit cards is an option, but it's far from ideal. First of all, you may run into the same problem that kept you from getting a small business loan – bad credit. If you have a low credit score, you may not qualify for certain credit cards, or the interest rates on the credit card may mean you spend more money than if you pursued other lending options. Personal credit cards also have a larger impact on your credit score than business credit cards do. If you choose to use a personal credit card for business expenses make sure to do so responsibly.
Business Credit Cards
If you don't want to use personal credit cards for business expenses, another credit card option is a business credit card. With a business credit card, you may get a higher limit than with a personal credit card (up to $50,000 depending on the card and the institution). The bad news is that you often need a higher credit score to qualify. The good news is that if you can get a business credit card, most do not report your account activity to the three major credit bureaus. This means that though they still run a credit check and report missed payments (which can affect your credit score), overall, business credit cards do not affect your personal credit nearly as much as personal credit cards.
Secured Personal Credit Cards
If neither a personal credit card nor a business credit card is right for you, you may also consider a secured personal credit card. These cards kill one bird with two stones. They can improve your credit while also providing funding for your small business. In order to get a secured personal credit card you'll need to put down a small cash deposit. As long as you use the card responsibly, you'll get your deposit back.
Cash Flow Issues
Cash flow is a huge issue for new businesses. In fact, according to a study by US Bank, it's the reason 82% of small businesses fail. If you have clients that you've invoiced, but haven't received full payments from, you may need a loan to help bridge the gap. If so, good news – there are financing options out there that allow you to turn unpaid invoices into fast cash. The focus for these financing options is more about the clients and the amount of the invoices than you, which means that your credit score is less of an issue.
If your need for a small business loan is based upon cash flow, you may be able to receive invoice factoring. This can provide you with immediate cash if you have unpaid invoices.
What is Invoice Factoring?
Invoice factoring is not technically a loan. Instead, a factoring company buys your invoices from you at a discount. This provides you with almost immediate access to funds, as opposed to a typical lending institution, where the loan process can take weeks or even months. As with almost any funding option there are some pros and cons to invoice factoring.
Pros:
Fast cash
Can help with cash flow
Easier approval than a typical loan
You don't need to put down any collateral
Cons:
High cost (since you won't receive the full invoice amount)
You lose control of the customer invoicing process
If your customers have bad credit you may not be eligible
If the client fails to pay the invoice you may owe the factoring company money
Alternative Lenders
If your business is more established and invoices and cash flow aren't an issue, you still have options outside of a small business loan from a bank. There are many alternative lenders who provide funding options. Some require credit scores between 500 and 650, but there are other lenders who have no required credit score.
If your personal credit score is 500 or higher you have a few alternative lender options for short term loans and if your score is over 600 you'll have even more options available. When researching these short term loans, there are four things you should compare and consider: the loan amount, APR, loan term, and funding time. You should make sure to weigh all four of these factors carefully. Small differences in interest rates may have long-term financial consequences, but you should be aware that the lower your credit score, the higher the interest rate on your loan will likely be.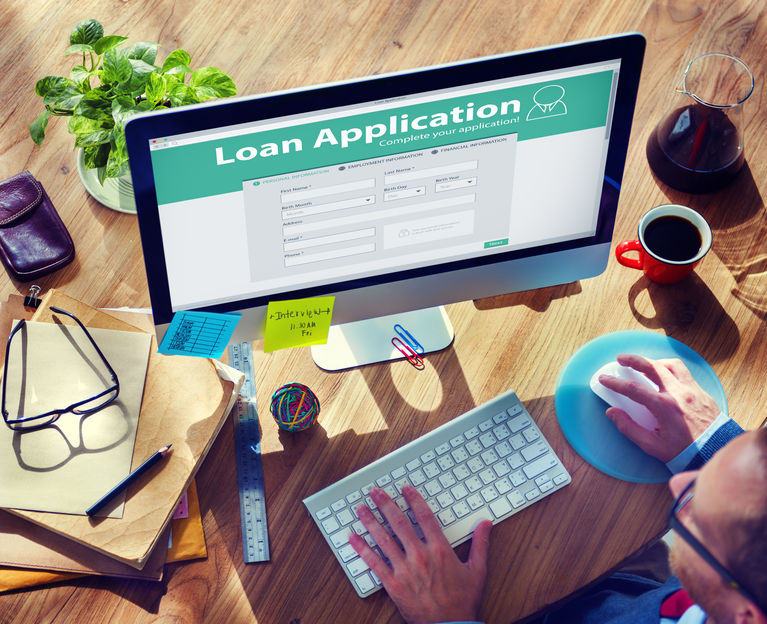 Loan Amount
This is one of those instances where bigger does not necessarily mean better. It may be tempting to take as large a loan as you're possibly able, but keep the long term in mind. Short term loans often come with high APRs, which means you'll end up paying more for your money. Most small businesses need loans, but only take what you need. When starting a small business it can be tempting to do everything all at once. Consider what you need now and what can wait and focus on the funding for the now.
Annual Percentage Rate (APR)
APR may be the most important thing to consider when comparing loan options. APR is not the interest rate, but instead is the cost of borrowing, which includes the interest rate, but can also include any other fees that the lender charges. Short term loans often come with higher APRs. Since APR includes interest rate AND fees, the APR is a better and more holistic tool for comparing loans, as opposed to only looking at the interest rate.
Loan Term
This is the amount of time that the borrower and lender agree upon for the loan. The borrower must repay the loan by the end of the loan term. Alternative lenders may offer shorter terms loans, but the shorter the loan, typically the higher the APR. As a small business, unexpected emergencies will almost certainly occur. In these instances, you may require a short term loan to tide you over.
Funding Time
This is how long it takes you to receive the loan. A major advantage of working with alternative lenders is that they often have much shorter funding times than typical lending institutions. If you need to access funds quickly, alternative lenders with quicker funding times may be worth the higher APR.
Improving Your Credit Score
Finally, if you need a loan but not immediately, you may want to try improving your credit score. If you can improve your credit score you have a better chance of receiving better interest rates, and you'll have more options.
No matter what your credit score is or why you need a small business loan, plenty of lending options exist. With so many options available, you no longer have to give up on your small business just because of a bad credit score.